Smart irrigation controllers to gain high traction in the coming years
Modern irrigation systems include smart irrigation that entails the use of sensors to monitor as well as control watering schedules of sprinklers in the selected area. Smart irrigation controllers are experiencing high demand owing to the effectiveness they bring in the irrigation activity. They are usually connected to cloud. They make use of local weather forecasts along with real time updates to control and manage water distribution and usage. Smart irrigation controllers can be operated remotely with the use of devices such as computers or smartphones. In this research report, various trends, developments by key players, market growth drivers as well as challenges are discussed along with their analysis across various regions in the globe thus portraying a complete market scenario. According to Persistence Market Research, the global smart irrigation controllers market is projected to expand at a high value CAGR of 13.3% throughout the period of assessment to reach a valuation of around US$ 1800 Mn by the end of the year of assessment (2025).
Innovation in communication and use of novel methods to trend in the global market
Smartphones are gaining high traction since past several years. These devices are becoming a vital part of smart deployments. Manufacturers of smart irrigation controllers are largely focusing on integrating smartphone control functionality into their products. Most of the manufacturers of smart home based irrigation controllers are also focusing on integrating functionalities that can allow communication via smart home systems through voice. Smart irrigation controller is a comparatively new offering. Players involved in smart irrigation controllers are exploring new pathways of development with a view to generate high revenues. Several experiments are being carried out to produce novel products that have enhanced capabilities and increased operational efficiency. Companies have integrated additional functionalities to their products, for instance soil health analytics and drone integration. Such innovations in communication methods and development of existing products will ensure a bright future for smart irrigation controllers.
North America to reflect high market attractiveness
Smart irrigation has witnessed increased adoption in various countries in North America region. This has triggered the use of smart irrigation controllers in the region making it the most lucrative in the globe. Manufacturers of smart irrigation controllers are targeting North America for business expansion as the region showcases high attractiveness and growth potential. Smart irrigation controllers market in North America is projected to expand at the highest rate during the forecast period and is anticipated to reach a valuation close to US$ 877 Mn by the end of the year of assessment. United States is the main growth contributor followed by Canada and accounts for a major share in the North America smart irrigation controllers market.
Get Sample Copy Of This @ https://www.persistencemarketresearch.com/samples/19105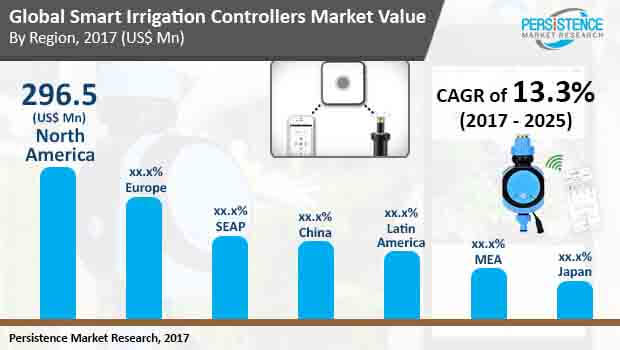 Adoption rate of smart irrigation controllers to be significantly high in Europe and China
Europe and China also have contributed substantially to the growth of the overall market. The adoption of smart irrigation in these regions is increasing at a high pace making them a potential revenue pocket for players involved in smart irrigation controllers. The smart irrigation controllers market in China and Europe is expected to grow at the same rate in the coming years, however, Europe market is expected to show high valuation by the end of the forecast period. Europe is the second largest region after North America and is poised to touch a noteworthy estimate of around US$ 427 Mn by 2025.